Little Devil
Taken from Autocar & Motor - June 14th 1989
Almost 40 years after the last ERA was produced comes a Mini wearing the famous three-ring logo. With the MG Metro Turbo engine tucked under its bonnet, it's not simply a special anniversary model, as John Barker discovers
ERA is not the first name that springs to mind when talking hot Minis. Truth to tell, it's probably the last, as English Racing Automobiles made it's last car in 1952, seven years before the Mini first squealed onto our roads. By late summer, however, selected Austin Rover showrooms will be displaying the ERA Mini Turbo, a comprehensively reworked Mini with a 96bhp version of the MG Metro Turbo engine tucked under it's bonnet.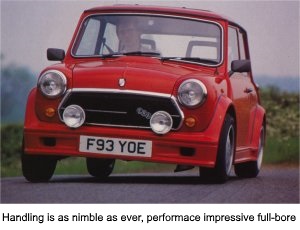 The year of the Mini's 30th birthday is the perfect time to launch a modified version of Issigonis's gem, and the familiar ERA three-ring logo is doubtless an evocative badge to adorn it. But the ERA is far more than an anniversary special. The company plans to sell 1000 examples over the next two and a half years at around £12,000 a piece.
If you ask, Dunstable based ERA will tell you that its initials stand for Engineering Research and Application. As befits the company title, the ERA Mini has been conceived and executed with notable professionalism.
The ERA begins life as a part-build Mini City, arriving from Austin Rover as a shell with headlining, glazing, and subframes. Accommodating the turbo of the 1275cc Metro engine requires part of the bulkhead to be cut away while, to aid cooling, holes are let into the rear of the bonnet and covered by a discreet bulge.
Fitting the Mini's cute lines with a full body kit sounds as promising as covering a thatched cottage with stone cladding, but the result is not unattractive. There's a hint of 'funny car' about the ERA, as if the Mini shell has been grafted onto the chassis of a larger car, but the kit of arch flairs, sill extensions and jutting front bib and rear apron is neatly attached. Deeply offset five spoke alloys sit snugly in the arches and wear tiny but perfectly formed 165/60 HR 13 Goodyear NCT tyres.
Interior is transformed, trimmed in attractive grey cloth and leather

The average Mini Owner would be hard pushed to find any relation between the interior of the ERA and that of their own car. Utility has been transformed into luxury; there is a full-width, leather-covered dashboard where the parcel shelf used to be; sportingly contoured seats replace the regular formless items; the door casings, like the seats, are trimmed in attractive grey cloth and leather.

But settle behind the meaty three spoke wheel and the illusion is shattered; this might not look like a Mini, but it still feels like one.
It still sounds like a Mini too. Prod the accelerator a few times to prime the carb, turn the key and the familiar asthmatic wheeze of the venerable A-series floats into the cabin. Once underway, its inseparable ally, gear whine, provides the backing. But this tune is a variation of the theme, the longer inlet tract of the turbo softens the induction note.
The donor MG Metro doesn't boast state of the art turbo technology and lag can be annoying at times, so it is curious that ERA's modifications seem only to accentuate this trait. Boost has been raised from 7.5psi to 8psi which raises peak power fractionally to 96bhp at the same 6100rpm. But an unchanged peak torque rating now seems to arrive higher up the scale; precious little happens below 4000rpm – roughly the point at which the engine sounds as if it will shortly asphyxiate.

Instead, it finds itself whipped up to 6000rpm in very short order. Even with only four gears, this means that the ERA feels impressively rapid in a rush though the box. Should corners intervene, the ERA zips through them with delightful nimbleness.ERA hopes that the car will gain full type approval within the next couple of months. "We've had tremendous support from Austin Rover," says spokesman John Taylor, "and the car will come with a full warranty." Buyers paying more than twice the price of the most expensive Mini would expect much as much.

MG Metro Turbo engine fits snugly, gives 96bhp at 6100rpm
ERA claims a top speed similar to the Metro Turbo's 110mph and a sub-9secs 0-60mph sprint (MG Turbo 9.4secs) which seems optimistic. Performance figures are important when persuading customers to part with money that would buy any of the best hot hatches, but, leather trim, body kit and turbo not withstanding, the ERA is still a Mini. The charm factor is irrefutable and, along with rarity value, it is this that will sell the car